The RISE Up Program was created with the support and partnership of the City of Seattle and Sound Transit.
City of Seattle – Acceptable Work Sites
The City of Seattle has implemented stringent standards for acceptable behavior on city construction work sites that prohibit bullying, hazing and related behaviors – particularly those based upon race, immigration status, religious affiliation, gender identity or sexual orientation. Contractors of each tier, the general and subs, must ensure an appropriate, productive and safe environment for all workers.
Acceptable Work Site Contract Provisions can be found here.
Sound Transit Respectful Workplace Program
Sound Transit defines a respectful project site as a "worksite that is appropriate, productive and safe for all workers. A respectful workplace is free from behaviors that may impair production, and or undermine the integrity of the work conditions including but not limited to job performance, safety, productivity or efficiency of workers.
The metrics for determining whether the respectful worksite policy has been violated is whether a reasonable person should have known that such behavior would cause a worker to be humiliated, intimidated, or otherwise treated in an inappropriate, discriminatory or differential manner.  A person's intent is not a consideration.
We can't ignore the facts – the construction industry is changing. In a recent Sound Transit study, the comparison of apprenticeship hours to journeyman hours for both women and people of color are shifting. In the next four years, the industry will be more diverse – as long as we can retain these apprentice workers.

Unfortunately, when you look at retention, the data shows that white individuals are being retained in apprenticeship considerably more than people of color, especially Black or African American individuals.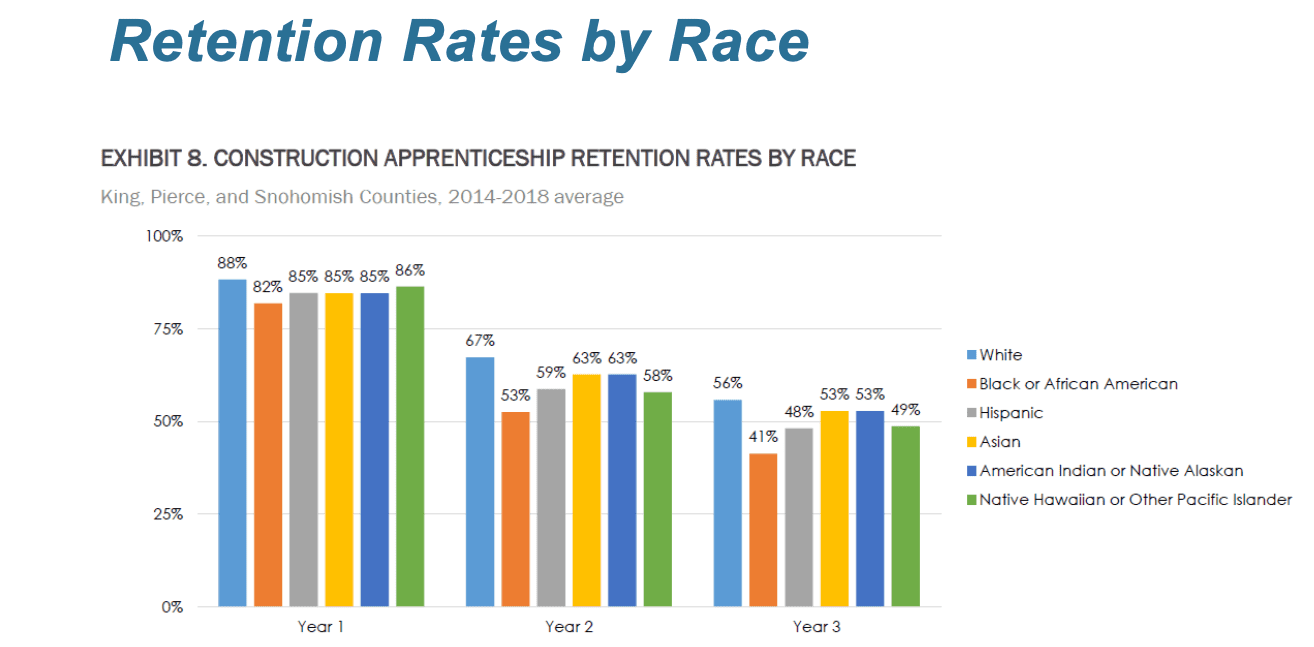 Initial survey data from a Sound Transit project site can be found here.